Smart Cities & Infrastructure
Cities around the world are improving services and quality of life through data collection devices and sensors.
The Challenge
RF technology is increasingly necessary for the implementation of complex smart cities and other smart infrastructure projects due to the increase in data collection devices and sensors.
Real-time information can vastly increase efficiency across many services, as well as improve health and safety. As many smart city applications are distributed across wide areas, wireless connectivity is often ideal for transmitting data to the
cloud. Intelligent RF connectors and effective cable assemblies and adapters enable wireless connectivity for nearly all smart city initiatives.
What We Do
We develop wireless combo modules, antennas, cables, adaptors, and testing tools that keep smart infrastructures connected. We are experts in wireless technologies and their aggregation, from Wi-Fi to Bluetooth to LoRa.
Wi-Fi is the actual backhaul infrastructure for all RF technologies that are needed in order to roll out a smart city. Nevertheless, wireless technologies that are used by the applications might have a different RF protocol as BLE and LoRa, which have to be aggregated towards the backhaul infrastructure.
Why VoxMicro
We are an innovation-oriented leading technology group with experience in complex, high speed and reliable wireless and broadband connectivity to urban communities and big-scale infrastructure.
We are a partner who deeply understands the pressure of the demanding wireless markets. We support customers to successfully navigate through their complexity using our certified high-quality wireless products and leveraging our comprehensive capabilities in managing and coordinating complex infrastructure projects from initial concept through implementation.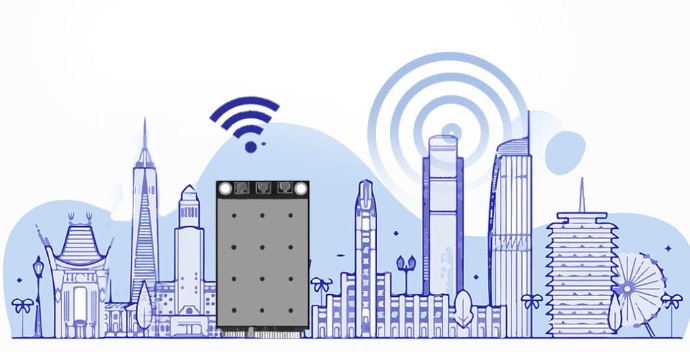 Why is Wi-Fi the building block for smart cities
No single technology is a panacea for every use case and application, however, Wi-Fi is at the forefront of smart city infrastructure. Given its cost efficiencies, the speed at which it can be deployed and the high bandwidth it delivers, as well as nearly universal support across mobile devices, Wi-Fi is now viewed as a basic building block for enabling the smart city.
Combined with cloud computing, sophisticated analytics software, location-based services, embedded sensors, mobile device applications, and other emerging new technologies, Wi-Fi has become an indispensable tool for helping municipalities achieve smart city status and do many things that were previously impossible or too expensive.
Public Access
Wi-Fi access is an increasingly critical amenity for residents and visitors alike. It can be crucial for visitors, who may need ongoing access for navigation and sightseeing support, especially if they are traveling internationally and want to avoid outrageous roaming charges. But it is also important for residents. Nearly every city is seeking to ensure universal internet access, and Wi-Fi offers the most rapid and inexpensive option for this.
Trafic Control
Wi-Fi enabled video cameras mounted at intersections, sensors everywhere and cloud-based analytics software that cars and even people are using gives cities a more accurate picture of traffic flows and congestion at different times of the day and different days of the week. This data allows urban planners to detect shifts in traffic patterns and to make decisions concerning, among other things, where and when to plan activities or the traffic impact on fees that developers should be required to pay. Wi-Fi-based traffic management systems can even dynamically adjust the timing of traffic lights at intersections to ease traffic jams.
Parking
New parking solutions leverage IP video to identify available parking spots and share this information either via digital signage or a mobile app, thus providing a major benefit to drivers while also reducing traffic. On the enforcement side, these solutions identify exactly when a car enters or leaves a space, enabling much more efficient enforcement and again, providing information that can be useful to drivers such as, for instance, reminding them that they have 10 minutes left on their meter.
Water and Environment
Population growth and climate change have made water conservation a major issue for cities. Wi-Fi technology together with sensors and cloud-based software help cities to address these issues proactively. The installation of wireless sensors in water pipes allows the city to establish a baseline for water flow rates. When the city detects an increase in the flow rate, it sends inspectors to spot and repair the water leak. Smart cities also make use of air quality sensors that wirelessly transmit data to city servers, which allow urban planners to adjust zoning permits and impose regulations to achieve compliance with air quality laws.
Public Safety
Wi-Fi has long been part of a city's public safety infrastructure. But with faster data transmission speeds, better video quality, improved facial recognition software, and cloud-based analytics much more is now possible. Cities are now using Wi-Fi not only to download video from police cars but are also trialing projects involving the use of wireless-enabled body-mounted cameras on police officers that enables video data to be automatically downloaded, stored and analyzed by cloud-based services.
Previous
Next