Automation & Industrial IoT
Machines connected on the IIoT can continually monitor and report output levels, detect potential problems, and autonomously adjust input variables, allowing the automation of entire industrial processes.

The Challenge
Wireless technology drives a variety of industrial applications, including process automation, mobile resource management, fresh and wastewater management, and smart grids.
The Industrial Internet of Things (IIoT) transforms the way we do business by applying new technologies such as machine learning and predictive analytics to millions of connected devices. The IIoT promises huge gains in efficiency, safety, and security, but these gains can only be realized if devices stay connected.
What We Do
We develop wireless embedded modules, antennas, testing tools and regulatory services that keep the IIoT connected. We are experts in wireless technologies used in the IIoT, from Wi-Fi to Bluetooth to LoRa.
The IIoT consists of numerous industrial devices, connected primarily over wireless networks. However, with wireless networks, coverage, latency, and throughput levels must all meet the needs of each specific industrial application and environment. A single IIoT network may require more than one wireless technology to meet all of its needs.
Why Voxmicro
We are a global partner for RF Materials to industrial customers with a focus on the proactive supply chain, obsolescence management and component lifecycle aided by our international regulatory expertise.
We develop an extensive portfolio of products for industrial wireless applications and offer wireless connectivity solutions including a full range of socketed and soldered industrial-grade modules leveraging Qualcomm's latest technologies, antennas for harsh environments, RF connectors, cable assemblies, and RF fixtures.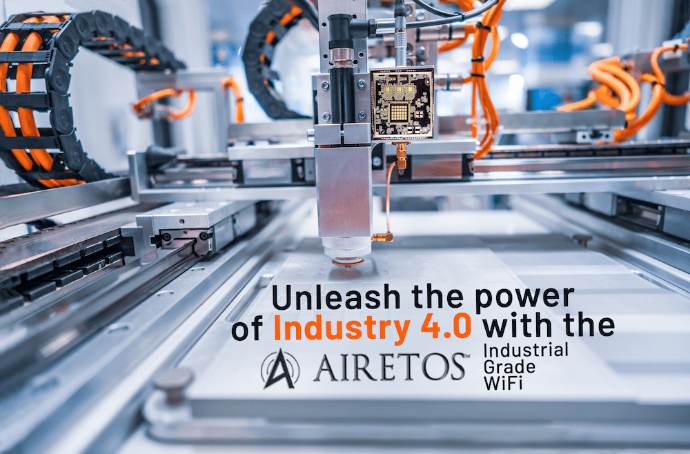 Why wireless technologies can provide a new perspective for the Industrial IoT
The Need for Mobility
Although manufacturers have embraced assembly line automation for many decades, the kind of wired networks that they typically use to connect equipment and machinery will not suffice for connecting all of the various IIoT devices that will emerge in the future: hundreds and, possibly, thousands of devices need to be connected, which include asset tracking for tools, spare parts and inventory, environmental monitoring and condition-based monitoring of machines, automated guided vehicles and digital personal protective equipment (PPE). These applications involve mostly mobility, and even for those applications that do not, the cost of wiring is significant. Beyond manufacturing, imagine a vast open-pit mine with an autonomous drill and blast machines, or the need of monitoring patients remotely or collecting data from turbines on an offshore wind farm.
The Multi-access Edge Computing
One of the building blocks for IIoT is multi-access edge computing (MEC): Hauling the information from thousands of sensors to distant data centers in the cloud introduces latencies that make it challenging to respond with sufficient speed for many industrial applications. In the case of video monitoring, for instance, it makes little sense to transport terabytes of streaming video data showing a virtually unchanging picture of the security perimeter. Edge processing allows for very low latencies and can be used to analyze data, including video or audio streams. The technology enables only footage relating to anomalous behavior to be sent to a remote operator might be interested in reviewing. Edge processing resources are an essential part of the wireless concepts and networks.
The IT and OT Convergence
Industries started learning to approach technologies more holistically. The promise of smart factories, mines, and hospitals is sharing data and intelligence from diverse areas. The real magic of machine learning is to see correlations across vast amounts of data, which would otherwise escape the notice of human analysts. To-date Operations Technology (OT) staff often considered technology as an enabler of isolated point solutions. Now they need to partner more closely with Information Technology (IT), which tends to have a holistic, platform approach to technology. The convergence between OT and IT is critical for fully realizing the benefits of IIoT and supporting wireless technologies and edge computing.
Previous
Next